Jussie Smollett is currently in police custody for lying about hid hat crime attack, and Chicago Police is pissed off! They held a press conference discussing how Smollett orchestrated this whole event in hopes of getting a higher salary on the Fox Show Empire.
Chicago Superintendent Eddie Johnson was first to talk making it known that :
"Jussie Smollett took advantage of the pain and anger of racism to promote his career." He says the "Empire" star was "dissatisfied" with his salary on the FOX show, so he concocted a publicity stunt to gain attention.
According to Johnson Jussie was considered a victim until they found evidence otherwise, and now his main concern is for the safety of LGBTQ community. Jussie's lies may be their safety at risk, and make their claims seem less creditable.
During the press conference the authorities said there were over 50 search warrants, and subpoenas were issued . They also praised the  Osundairo brothers for working with them , and becoming cooperative witnesses in the case.
Police say while ensuring that the Nigerian brothers' story was true , they were able to confirm that Jussie Smollett had made contact with Abel and Ola Osundario one hour prior to the attack. The Smollett went and called them an hour after the attack , and also after they left the US to Nigeria.
The phone call that we reported on yesterday that was placed by Smollett's attorneys to halt the grand jury was also mentioned. The actor'sLegal team claimed they had some evidence, but did not present anything new when the time came.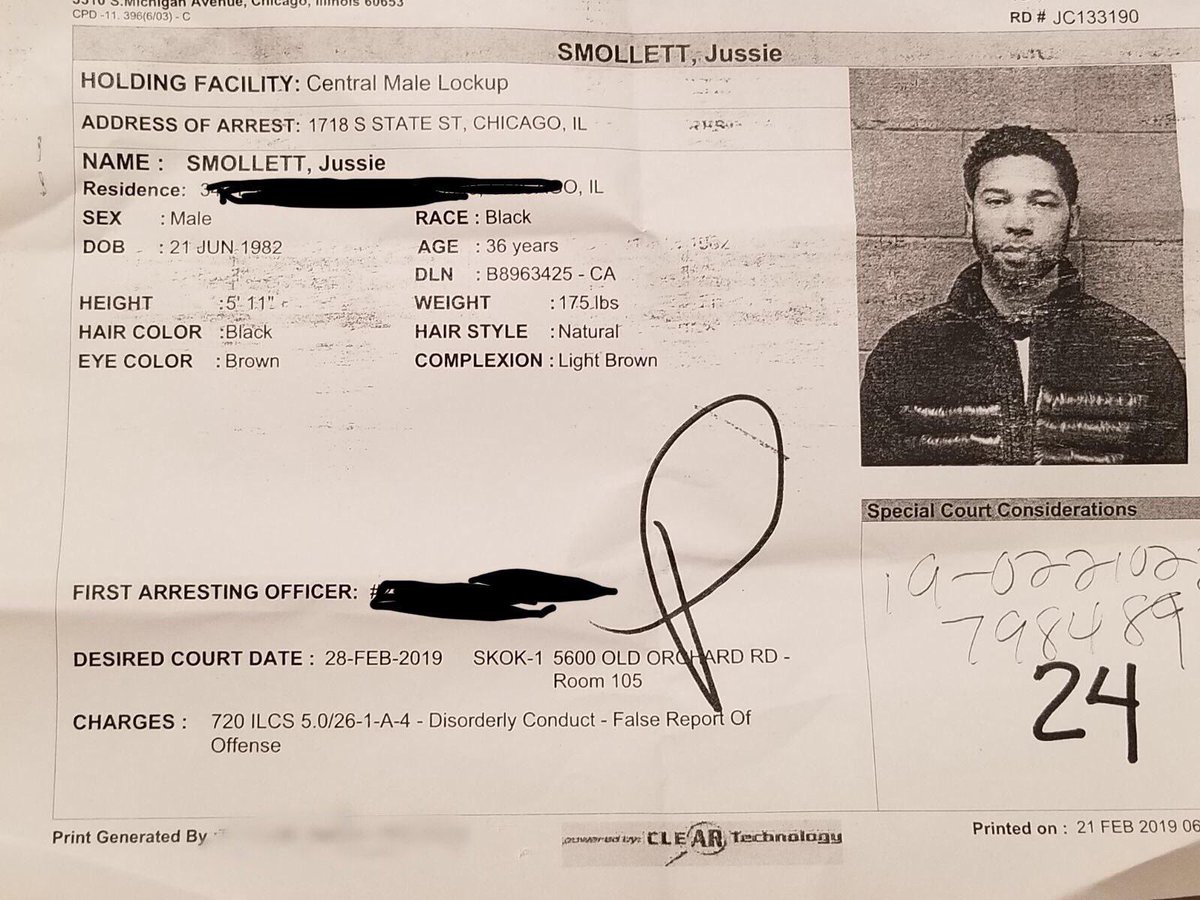 Womp Womp.
The Fox Network is currently debating what they are going to do with Jussie Smollett's character Jamal LIE-ON aka Jamal Lyon. As we previously reported Fox was standing tall behind the actor (probably cuz they told hime to do it but that alleged) , and wasn't writing his character out, but now it's a different ball game!
Smollett, is locked up in Chi Town , and hasn't made any statements yet to the police. His legal team is vowing to mount an "aggressive defense," including their own private investigation.
Jussie Smollett is due to appear in court later Thursday afternoon for a bond hearing.
Donald Trump's son of course couldn't wait to say something about his beloved MAGA supporters, and how Jussie lied on them! Donnie had showed "concern" prior to Jussie's story being outed.
Jussie Smollett set Black people, and his LGBTQ community back a few steps during Black History month! He should be ashamed, but we knew from the rip that no one was out in NEGATIVE 26 degree weather screaming MAGA in Chicago! I mean come one now! So remember where you saw it first!