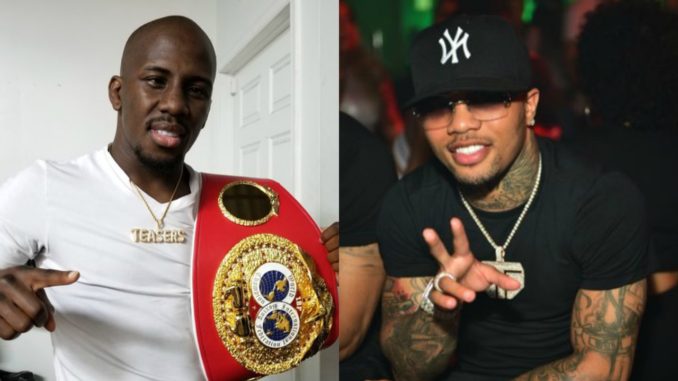 IBF super featherweight champion Tevin Farmer (30-4-1, 6 KOs) says WBA doubts champion Gervontaa 'Tank' Davis (22-0, 21 KOs) will fight him because according to Farmer Davis doesn't run his own show! Tevin says Davis doesn't run the show with his management at Mayweather Promotions, and they control who Davis fights!
"He doesn't call the shots. He's not the boss," said Farmer to IFL TV about Gervontaa Davis. "When I say I want to fight somebody, we make it happen. That's the difference between me and him. When he says he wants to fight somebody, his team steps in and say, 'We want to move Gervontaa the way we want to move him. We're building a superstar.' He don't call no shots. I said I wanted Jono Carroll, and we got him. When I say I want Joseph Diaz, we're going to get him, if he doesn't take another fight. It's a difference. We're not the same," said Farmer.
Davis, 24, called Farmer out last Saturday night immediately following his second round knockout win over mandatory Ricardo Núñez (21-3, 19 KOs) on SHOWTIME at the Royal Farms Arena in Davis hometown Baltimore, Maryland.
"Tevin Farmer fought tonight. I want Tevin. That's a fight that can be made. Let's get it on later this year," said Davis moments after stopping Ricardo Nunez in the second round.
For now Farmer may have to set his eyes on Joseph Diaz, 26 which would be an equally good fight due to Farmer's speed advantage. The Golden Boy Promotions fighter Diaz Jr. has won his last four fights since losing to WBC featherweight champion Gary Russell Jr. by a 12 round unanimous decision last year in May 2018. Diaz wasn't a match compared to Russell's hand speed advantage in that fight, and he would up getting out-boxed!
Gervonta's promoter Floyd Mayweather Jr. dropped a teaser saying that he may match him against either Farmer or Yuriorkis Gamboa (30-2, 18 KOs) next. Floyd also went into detail about he and Gervontaa Davis relationship:
"No matter what anyone says about our relationship, he's young's all about growth," said Mayweather about Gervonta at the post-fight news conference last Saturday. "He says certain things. I'm older and more mature, and at his age, I used to say things about my promoter and be upset. So it's all about growth. It's part of being young. But I'm always going to put him in the best position I can position him in so he can continue to win, and continue to be his best," said Mayweather.
Davis may be tired of hearing his "Cherry Picker" nickname given to him by non fans and supporters, and might be putting the pressure on Floyd to book larger name fights. If Mayweather doesn't think Davis is prepared it may continue to cause conflict, and we may hear of a departure.
We shall see !