Cyntoia Brown , 31 years old has been recently released from prison on clemency after serving 15 years in Tennessee Prison for Women. Cyntoia went to prison at age 16 after after killing her trick / customer that solicited her for prostitution. Brown reportedly murdered the john while he slept, stole his car, and took his belongings to her pimp. Cyntoia was charged and began serving two life sentences for self-defense homicide!
Now all that is behind Cyntoia because she is currently free, and to everyone's surprised that she is married to former Pretty Ricky singer Jonny Long! According to Brown she will go into detail of how she met her now husband, and other various topics. Her marriage while in prison was shocking enough, but to top it off Bad Boy Total singer Pam! According to Pam Johnny Long to advantage by acting as if he had found God while incarcerated for cheated on her and took assaulting a Texas public servant!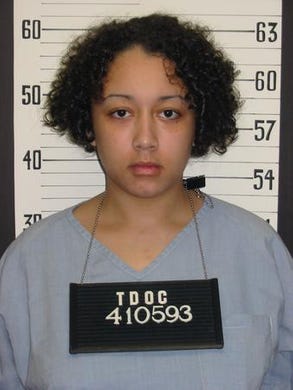 Pam warned Cyntoia to watch over her money because J.Long is not to be trusted allegedly! The couple recently divorced earlier this year, and now Cytonia is married to Pam's ex husband Long! He used to be gyrating on stage, and now he's praising Jesus in rap songs! In our opinion never trust anybody with the last name Long! Anyway Cyntoia is asking for privacy while she adjusts to being on the outside, and is busy at work writing books, securing deals etc.
If Pam is correct this would be the perfect time for someone like Johnny Long to swoop in, and try to ride Cyntoia's wave! It's seemingly like she allegedly left one pimp for another. Obviously Cyntoia has a history of being vulnerable for men that like to control , and take advantage of her situation !
Brown's book is scheduled to be released to the public on Oct. 15 through Atria, a division of Simon & Schuster. Readers will reportedly learn the details of her harrowing journey as a runaway teen of drug-addled parents. Brown became a sex slave who committed homicide according to her as self defense , and was initially given two life sentences at age 16!